On-page SEO, Website Optimization & Best Practices
On-page SEO, Website Optimization & Best Practices From Local SEO Experts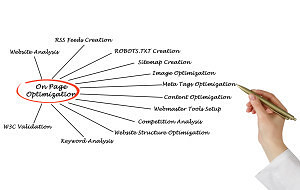 In building upon the keyword and competitive research, as well as taking into account some of the patterns that were uncovered via comparative analysis with other websites occupying top positions in the organic search results, we start to formulate some options that relate to how your website is structured to put your best sock-covered foot forward for on-page optimization.
While there are some additional technical elements that we may uncover, we'll examine the pages of your website to see how the following on-page optimization elements are being used and what steps are necessary to make sure that they follow optimization best practices:
URLs – We determine, based on our research, whether or not the URLs could stand to be optimized.
Title Tag – Is the title tag relevant to the page content, within an acceptable character length + any additional optimization?
Meta Description – Is the meta description relevant to the page content, is it unique and within an acceptable character length?
H1 (heading tag) – Is there an H1 on the page, is it unique to that page and does it relate to the content?
Headings (H2 – H6) – If all of the content was stripped from the page, could you get a sense of what the page is about simply by reading the headings on the page?
Call to Action (CTA) – Does every page contain a call to action?
Content review – Is the content relatable, does it help the user solve a problem or answer a search query?
Internal linking – Does the content link to other parts of the website that might provide a deeper explanation for the user?
External linking – If the content warrants a link to an external or 3rd party site, does that link provide any additional value to the user?
Image optimization – There are a number of elements that we look at in terms of image optimization like size, alt tags, and captions.
Analytics – Is there any additional data that analytics can tell us about your website and webpages?
Social Sharing – Wherever possible, can your content, products, or services be shared via social media?
Keywords – A lot has been given to keywords and keyword density over the years. We examine your content to make sure that there is enough keyword usage to support what the page is about without stuffing every variation possible into the page.
Blog – We examine the blog both by its component parts and as a whole to determine what can be done with the blog to help you achieve various business goals.